Consider a sponsored online program that is currently taking applications for 2023.
Click to see more online programs that are taking applications now for 2023.
There are multiple pathways to becoming a certified nurse midwife starting from new college students and ending with nurses at the doctoral level:
ADN to RN/BSN to CNM: Associates Degree in Nursing to RN licensure to BSN to CNM
BSN to CNM: Bachelor of Science in Nursing to MSN to Certified Nurse Midwife
MSN to CNM: Master of Science in Nursing to CNM
APRN to CNM: MSN in Advanced Practice Registered Nursing to CNM
DNP to CNM: Doctorate in Nursing Practice to CNM
Different schools offer different types of Certified Nurse Midwife programs. You can start with viewing the Nurse Midwife Programs detailing the ACME (Accreditation Commission for Midwifery Education) accredited Nurse Midwife programs.
Depending on which category that individuals fit into, there is a path that can potentially transition to a Certified Nurse Midwife, or CNM, without a lot of unneeded courses or time consumption. With the rapidly growing interest in midwifery as a method of prenatal care, this is a great field to consider.
Deciding to become a certified nurse midwife is an excellent step for nurses wanting to further their career capabilities. Like any other healthcare related field, there are strict requirements to become certified to work in this field. After our subject matter experts took part in extensive collegiate research, we have determined that there is a path for just about everyone interested in this field.
Click to see more online programs that are taking applications now.
How Can I Become a Nurse Midwife?
Bachelor's Degree in Nursing or Related Field
At the very basic stages of this degree program, students should choose a bachelor's program that complements their future goal of becoming a certified nurse midwife. Obtaining a Bachelor's degree in Nursing is the most common choice at this stage, since it provides the standard of education for the field being entered. Having a bachelor's level degree also allows graduates to become licensed, which is another requirement for entry into a CNM program. For students that have already obtained a bachelor's degree in another field, there are transitional programs available that allow students to take courses to obtain a Bachelor's degree in Nursing in a shorter time frame.
RN Licensure
In addition to having an appropriate degree program, applicants to CNM programs should also have a licensure to practice nursing in their respective state. Graduates that have already obtained licensure have proven that they have met the requirements of their state to become a professional nurse – which is a big step to success in the CNM program.
NCLEX
The National Council Licensure Exam for Registered Nurses is a requirement that goes hand-in-hand with the licensure requirement. This exam integrates information from the various aspects of nursing, including medical, surgical, pediatric, psychiatric, and obstetric data. Nurses that have successfully passed this exam are found to have the knowledge required to work with the public.
GRE
Nurses that are interested in entering into a CNM program may be required to submit scores from the Graduate Record Exam (GRE). The GRE is a standardized test that measures an individual's skills in the major of their degree. While some programs have minimum GRE requirements, most schools only require that GRE completion be on file.
Certified Nurse Midwife Program
Most Certified Nurse Midwife programs are 2 to 3 years in length. During the program, students will take courses such as Physiology and Pathophysiology, Advanced Primary Care Nursing, Intrapartum and Postpartum Care, and Care of the Childbearing Woman. In addition to the coursework required, students will also be subject to clinical practice during the program. Successful completion of this degree program provides students with the opportunity to take the CNM exam. View Online CNM programs here.
CNM Exam
The Certified Nurse Midwife exam is set forth by the American Midwifery Certification Board (AMCB). This exam tests graduates on their knowledge of the curriculum that was presented during the CNM program and is required for licensure as a Certified Nurse Midwife. The AMCB has various resources and information about the exam on their website.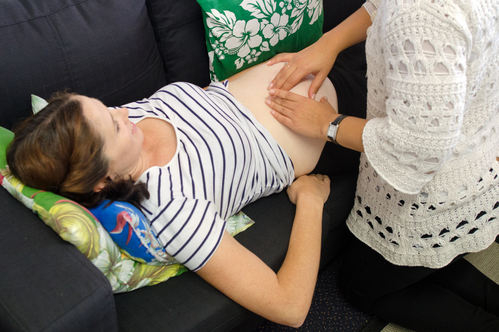 Paths to becoming a CNM
The path to becoming a Certified Nurse Midwife can begin at any stage of education. Depending on the level of education already received, students may find that different paths are more fitting depending on their circumstances.
1. High School Graduates to CNM
Students that are just entering the collegiate experience will find that they are best suited with an undergraduate degree that fits the bill for nurse midwives.
Bachelor's degree in Nursing
Nursing Licensure in Current State
NCLEX
GRE
Certified Nurse Midwife Program
CNM exam
2. Associate's Degree in Nursing with Licensure to CNM
Since the degree requirement for nurses has only in recent years changed from Associate's degree to Bachelor's degree in Nursing, there are still nurses in the field with only associate's level education. In order to bridge the gap between the 2 and 4 year degree programs, nurses can take part in an RN to BSN degree advancement program prior to enrolling in the Certified Nurse Midwife program. The steps to completing this advancement are listed below.
RN to BSN program
GRE
Certified Nurse Midwife Program
CNM Exam
3. Bachelor's degree in Nursing with Licensure to CNM
Graduates that have already completed their nursing degree and have licensure have a shorter path to becoming a Certified Nurse Midwife. In order to be accepted into CNM degree programs, the obtained degree must be accredited by the Accreditation Commission for Midwifery Education (ACME).
GRE
Certified Nurse Midwife Program
CNM Exam
4. Bachelor's or Master's degree in Nursing to DNP
Even those that have already achieved undergraduate or graduate degrees in nursing have the option to pursue higher education in nursing. With a Doctor of Nursing Practice degree, professionals can become certified as nurse midwives with a higher educational standing.
GRE (for Bachelor's level graduates)
DNP program
CNM Exam
5. Advance Practice Registered Nurse to CNM
Post Graduate Certificate Program in Nurse Midwifery: In addition to the pathways listed above, graduates that are interested in becoming Certified Midwives with a bachelor's degree that is not in any field of nursing have the option to receive a limited certification that is only accepted in 5 states throughout the country (DE, MO, NJ, NY, & RI). This option is reasonable for individuals within these 5 states that do not wish to pursue a degree in nursing prior to certification.
Degrees Required to Become a CNM
The American College of Nurse-Midwives has set forth very clear policies on the degree requirements for becoming a Certified Nurse Midwife. Starting in 2010, all graduates considering entry into clinical practice must have at least a graduate level degree (ACNM, 2009).
This requirement can be fulfilled by either Master's or Doctoral degrees in Nursing. Degree fields such as midwifery, nursing, public health, and other health science specialties are highly recognized by CNM programs as acceptable. CNMs that received certification prior to 2010 without a graduate degree are permitted to retain their current licensure without incident.
For more information, consider the following information: